Testimonial
The CNMI Scholarship Office is proud to introduce our 1st recipient of our WICHE Professional Student Exchange Program (PSEP).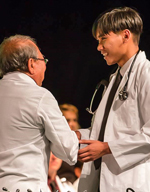 24-year old Billie Ryman Pensader Ocampo is the CNMI's first-ever recipient of our Professional Student Exchange Program. He began his first year in medical school at the University of Hawai'i John A. Burns School of Medicine in August of 2018. Billie was a recipient of our Honor Scholarship Program from Fall 2012 – Spring 2016. He conferred a Bachelor's of Science degree in Biology from the University of Washington in 2016.
"The PSEP aid will be a great assistance in helping me achieve a longtime goal of becoming a physician. Thank you for this opportunity and for increasing accessibility to professional education for those of us from the islands." -Billie Ocampo
Upon completion of his studies, Billie will return to the Commonwealth of the Northern Mariana Islands and provide four years of work service for financial assistance he received through the Honor Scholarship Program. He will provide two years of work service to the Commonwealth for every year that he received financial assistance through PSEP.