Management & Staff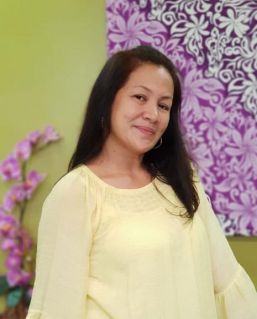 Mildred Sablan-Camacho
Administrator
Present
Before being appointed as the CSO Administrator, Mildred worked as the Compliance and Repayment Officer for the CNMI Scholarship Office for the past three years, where she has assisted a multitude of former recipients meet their compliance obligations. While working as a compliance officer her main duties included the coordination, supervision and collections of former recipients' academic achievement data and payments on loans and direct supervision of two other employees in her section. She worked on a case by case basis to ensure each client has complied with the requirements set forth by the Memorandum of Agreement (MOA) upon receiving their scholarship funds. Moreover, she also assisted previous recipients with reasonable payment plans as well as deferments and forbearance requests. In addition, she monitored and was responsible for the updates of former recipient Masterlist.
Mildred has an Associates in Arts degree from the University of Phoenix in 2012 and a Bachelor of Arts degree in business administration from Columbia Southern University. With her educational background, Mildred brings with her extensive work experiences gained from both the public and private sectors. She has more than ten years of banking knowledge and experience which she acquired during her employment at the Bank of Saipan as an Operations Officer. Her public or government work experience includes Office of Personnel Management, Department of Public Health, Marianas Visitors Bureau and the NMI Retirement Fund.
SCHOLARSHIP & GRANTS SECTION
Coryn A. Achas
Scholarship & Grants Clerk II
January 2017 - Present
Coryn started out as a Workforce Investment Agency (WIA) Trainee and soon became a permanent employee. She currently works with the Scholarship and Grants section of the CNMI Scholarship Office as the Scholarship and Grants Clerk II. Her main duties include assisting the Financial Aid Officer in receiving documents, maintaining and updating recipient folders such as filing documents and retrieving folders for review, and other related scholarship needs. She is also responsible for maintaining an up-to-date listing for the Scholarship and Grants student online portal, manage the student portal and communicate all error to the IT specialist. She also assist with inquiries on Scholarship and Grants concerns, the review, processing, and disbursement of awards. Her duties as a Clerk II also include to log, scan, and tag all documents to the Laserfiche system, and maintain the reception area. Coryn's extended duties also include performing secretarial duties for the Administrator and perform other related duties and responsibilities as assigned by the administrator or designee.
Coryn participated in the CNMI Liberation Royal Court and was crowned 2016 Miss CNMI Liberation Royal Princess. She is now pursuing her Associate of Arts degree in Business Administration with Colombia Southern University.
ADMINISTRATIVE SERVICES SECTION
Carmen P. Sablan
Administrative Officer
Secretary to the Board of Directors
CNMI WICHE Student Representative
April 2017 - Present
Carmen serves as the Administrative Officer for the CNMI Scholarship Office. Her role and responsibility consists of reviewing and reconciling funding expenditures with financial reports and maintaining the internal financial ledger for the office. She oversees the preparation of all travel authorizations, purchase requisitions, personnel actions, payroll, training and development of staff, and all processing and routing of documents to each respective departments. Carmen also provides support to the Administrator in project planning and management for stated goals and objectives both locally and regionally. She serves as CNMI's CSO Western Interstate Commission for High Education (WICHE) Student Representative, handles the Professional Student Exchange Program (PSEP) applications for students applying under the various programs offered. In this role, she conducts outreach for all CSO's WICHE Programs to high school students and other stakeholders. Lastly, along with the many role she holds at CSO, Carmen, serves as the Secretary to the CSO Board of Directors (BOD) and responsible for scheduling board meetings and enuring that travel authorizations are processed, prepares the venues for board meetings, prepares meeting packages for all Directors, handles and prepares Student Scholarship Appeals for the Board of Directors Committee on Appeals, and takes and prepares meeting minutes.
Carmen is currently pursuing a Bachelors of Art degree in Human Resource Management with Columbia Southern University.
COMPLIANCE & REPAYMENT SECTION
Jovene Ogo
Administrative Assistant
Present
Jovene is an Administrative Assistant under the Administration Section and served as CSO's Official Timekeeper and responsible for preparing and processing CSO time sheets and payroll matters. She was also responsible for the collection and deposits of all student loan repayment and prepares quarterly and annual reports for the Administrator. Jovene assisted the Administrative Officer with all procurement matters and vendors by preparing and processing all purchase requisitions and orders, procurement contracts, maintaining vendor sub-ledgers, preparing travel authorizations for both the staff and the Board of Directors. She also kept an inventory of all CSO supplies and equipment and assists with other HR matters, such as processing and routing of personnel actions and contracts and other on-boarding matters.
Jovene currently holds an AAS degree in Accounting from Purdue University Global as of May 2018.
Aileen M. Farley
Workforce Development Coordinator
April 2017 - Present
Aileen serves as CSO's Workforce Development Coordinator under the Compliance & Repayment Section. Her main duties include assisting Compliance & Repayment Officer linking recipients with available employment upon completion of their degrees. She is also responsible for recruiting graduates and undergraduates into fellowship and internship programs. Aileen also tracks prior recipients whom have graduated or whom have discontinued enrollment to ensure their compliance requirements are met. In addition, she assists in data maintenance and collection of current and former recipients.
Prior to joining the CSO Team, Aileen worked as a substitute teacher for the Public School System. After working at the Office of Vocational Rehabilitation for 12 years she decided to focus on completing her degree at NMC and was a stay-at-home mom until she joined the CNMI Scholarship Team in April 2017. Aileen's volunteer work included a period of two months with the Guma Espiranza on Saipan.
Currently, Aileen is pursuing her Bachelor of Science degree in Education, with an emphasis in Rehabilitation & Human Services at the Northern Marianas College.
Jocelyn T. Blas
Compliance Clerk
January 2016 - Present
Jocelyn began her employment with the CNMI Scholarship Office as a Workforce Investment Agency (WIA) Trainee. She then was hired as a full-time employee and currently works in the Compliance & Repayment section as a Compliance Clerk II. Her main duties include assisting the Compliance & Repayment Officer in receiving, maintaining and updating former recipient files. She also assists in the verification, research and analysis of former recipients to ensure their compliance requirements are met. Additionally, she assists with the data maintenance and collection of current and former recipients' academic achievement data along with their CNMI employment data.
Before she joined the CSO team, Jocelyn was a stay-at-home mother and spent many hours volunteering her time to Dandan Middle School and San Vicente Elementary School in areas such as Mother Read Father Read, Partners in Print, and Early Childhood Development. She has been a volunteer coach for the Dandan Comets since 2011. Her previous employment includes working in the Tourism & Hospitality Industry at Hyatt Regency Saipan.
Jocelyn is currently pursuing a Associate of Art degree in Business Administration with Columbia Southern University.
WORKFORCE DEVELOPMENT SECTION