WUMI Summer Programs
In February of 2016, the CNMI Scholarship Office (CSO) and the Washington University in St. Louis School of Medicine (WUSTL) began collaboration on a partnership for eligible CNMI Residents. The Washington University and Mariana Islands Summer Program (WUMISP) is now possible through this partnership. We recognize the importance and need to increase the representation of Pacific Islander professionals and leaders in the sciences, medical sciences, and allied healthcare sciences. This representation will help improve healthcare, reduce health disparities and solve many environmental challenges.
---
WUSTL is looking for bright, innovative, and talented undergraduates from the Pacific Islands, particularly eligible students from the Commonwealth of the Northern Marianas Islands (CNMI), to participate in the following 2018 summer programs:
Kindly click on the links below to start on your application:?
Biology and BioMedical Sciences Programs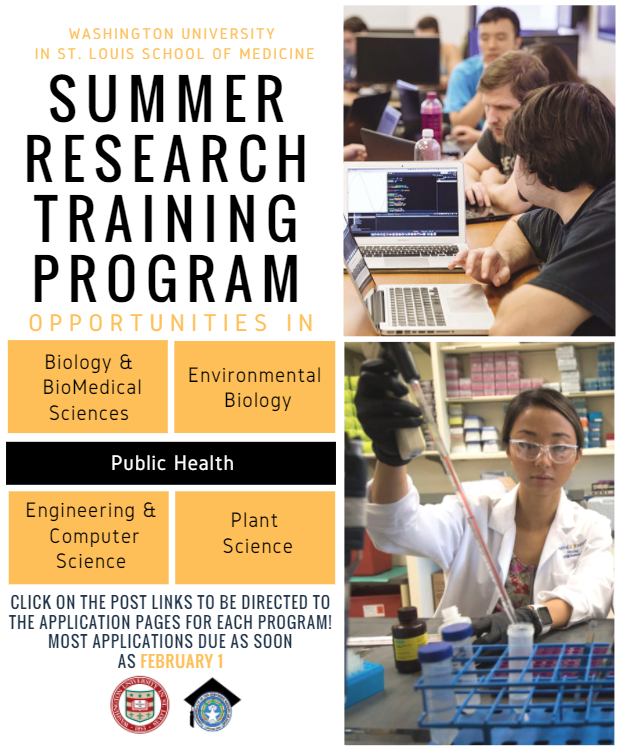 (1) Amgen Scholars Program
http://www.dbbs.wustl.edu/…/Summe…/Pages/Amgen-Scholars.aspx
Eligibility requirements: Sophomores, Juniors and non-graduating Seniors
*Application Deadline: February 1, 2018
(2) BioMedRAP
http://www.dbbs.wustl.edu/…/SummerRese…/Pages/BiomedRAP.aspx
Eligibility requirements: Undergraduates
*Application Deadline: February 1, 2018
(3) Opportunities in Genomics Research
http://genome.wustl.edu/outreach/
Eligibility requirements: Undergraduates
*Application Deadline: February 12, 2018
(4) Pediatrics Student Research Program (PSRP)
http://pediatrics.wustl.edu/pediatricstudentresearchprogram/
Eligibility requirements: Current FT undergraduates, grad students and high school seniors
*Application Deadline: February 1, 2018
(5) Summer Research Program at Mallinckrodt Institute of Radiology
https://www.mir.wustl.edu/research/summer-research-program
Eligibility requirements: Undergraduates and Medical Students
*Application Deadline: February 19, 2018
(6) WUSTL ENDURE Undergraduate summer research experience in neuroscience
http://endure.wustl.edu
Eligibility requirements: FT undergraduates from underrepresented groups
*Application Deadline: February 1, 2018
________________________________________________________
Environmental Biology Program
(1) Tyson Undergraduate Fellows Program
https://tyson.wustl.edu/undergraduate-opportunities/
Eligibility requirements: Undergraduates
*Application Deadline: February 1, 2018
________________________________________________________
Engineering and Computer Science Programs
(1) Computer Science and Engineering (CSE) Research Experience for Undergraduates
https://sites.wustl.edu/csereu/
Eligibility requirements: Undergraduates
*Application Deadline: February 19, 2018
(2) Center for Engineering and MechanoBiology (CEMB) Undergraduate Summer Research Experience Program
https://cemb.wustl.edu/diversity/reu/
Eligibility requirements: Undergraduates
*Application Deadline: February 16, 2018
________________________________________________________
Plant Science Program
(1) Donald Danforth Plant Sciences Summer Internship Program
https://www.danforthcenter.org/educati…/research-internships
Eligibility requirements: Not Specified
*Application Deadline: February 9, 2018
________________________________________________________
Public Health Program
(1) Institute for Public Health Summer Research Program
https://publichealth.wustl.edu/res…/summer-research-program/
Eligibility requirements: FT Undergraduates, Graduates and Medical Students
*Application Deadline: February 1, 2018
________________________________________________________
For more information, please e-mail Monique Sablan or contact her at (670) 664-4752