WICHE
WICHE AND THE U.S. PACIFIC TERRITORIES AND FREELY ASSOCIATED STATES
"Working Together to Boost Higher Education Access and Success!" -WICHE
In 2012, The Commonwealth of the Northern Mariana Islands (CNMI) was the first of the U.S. Pacific territories and freely associated states to become active in the Western Interstate Commission for Higher Education's (WICHE) programs and initiatives. The Student Exchange Program (SEP) provides students with access to out-of-state higher education options, along with significant tuition savings. Over 40,500 students are enrolled in undergraduate, graduate, and professional programs outside their home states through SEP, saving $377.2 million in 2016-17.
CNMI continues to participate in the Western Undergraduate Exchange (WUE), which allows CNMI students to enroll in undergraduate programs in other member states and territories at deep discounts. AY 2016/2017 CNMI enrolled 54 WUE students and saved $445,452. CNMI also participates in the Western Regional Graduate Program (WRGP) and enrolled two WRGP student and saved $29,740 in AY 2016/2017. A total savings of over $450,000.
To avail of the WUE tuition discounts, please visit the list of participating institutions that you wish to attend and see their deadlines and list of requirements. Also, you may search and find institutions based on your choice of major and type of degree you wish to confer. If you wish to participate in the WRGP, you may search the list of programs and/or by graduate majors for their deadlines and requirements. Students in the CNMI can now enroll in online programs without leaving the CNMI. Please see complete list of programs with online option by downloading the updated 2017/2018 WRGP Handout.
"I am from a small, rural island known as Saipan, which is found in the Commonwealth of the Northern Mariana Islands. The community college there didn't offer all of the classes I needed for my major. Fortunately, our government became a member of WICHE, so I have more options. WUE gave me an affordable post-secondary education and a first-rate science education. I am currently an undergraduate student at the University of Hawai'i at Manoa, majoring in biology. Once I graduate, I plan to pursue pharmacy school. Without WICHE's WUE program, I would not have been able to pursue better educational opportunities in order to fulfill my academic and future professional goals, and for that, my parents and I are forever grateful."
— Aldreen, Commonwealth of the Northern Mariana Islands resident, Class of 2018, University of Hawai'i at Manoa, Biology
WICHE Programs
Western Undergraduate Exchange (WUE), students pay no more than 150 percent of the receiving school's resident tuition, substantially less than standard nonresident tuition.
Western Regional Graduate Program (WRGP) 1,567 students are enrolled in more than 400 distinctive graduate programs at 59 institutions at resident tuiton.
Professional Student Exchange Program (PSEP) More than 15,600 professionals have received home state support when enrolled in programs in another Western state.
CNMI is currently not participating in this program but with the help of Senator Jude Hofschneider, also a WICHE Commissioner, he has introduced Senate Bill #20-8 to allow CNMI to participate in this program. We anticipate our students to be able to apply and participate in AY 2017/2018.
---
Reading Materials: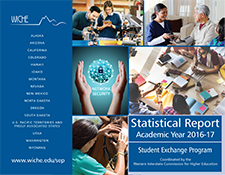 WICHE Student Exchange Program Report covers fall 2016 enrollments for WUE, WRGP, and PSEP. This details the funds that flow between students' home states and the enrolling PSEP institutions that receive them
Last Updated 3/29/2018